Features:
HA Solar floodlights no electricity bills, environmental protection, home safety. After turning on the switch, the solar floodlight will turn on at dusk and automatically turn off at dawn. Easy installation and high efficiency.
Private mold products, more unique designs on the market, more competitive.

Beautiful appearance, you can add motion sensing settings. Lattice and wide-angle styles can be selected. Silver and white reflective cups are available.

Tempered glass, very strong and safe.

Epistar Chip, Brand power battery. Thickened shell and bracket, outdoor powder spray, anti-ultraviolet, die-cast aluminum material, gray and black can be selected.

3m 2 *0.75㎡ cable with IP65 Connector, thickened and extended cable are more durable and practical.l

50.100.200.300w all in one color box packaging, 400.500w split color box packaging, We can also help you customize color boxes and build brands.
Application:
HA solar floodlight suitable for outdoor lighting, such as gardens solar floodlight, landscapes solar floodlight, lawns solar floodlight, factories solar floodlight, stadiums solar floodlight, billboards solar floodlight, buildings solar floodlight, etc.
You can also move the solar panels to the outdoors, and put the lights in an indoor warehouse for use.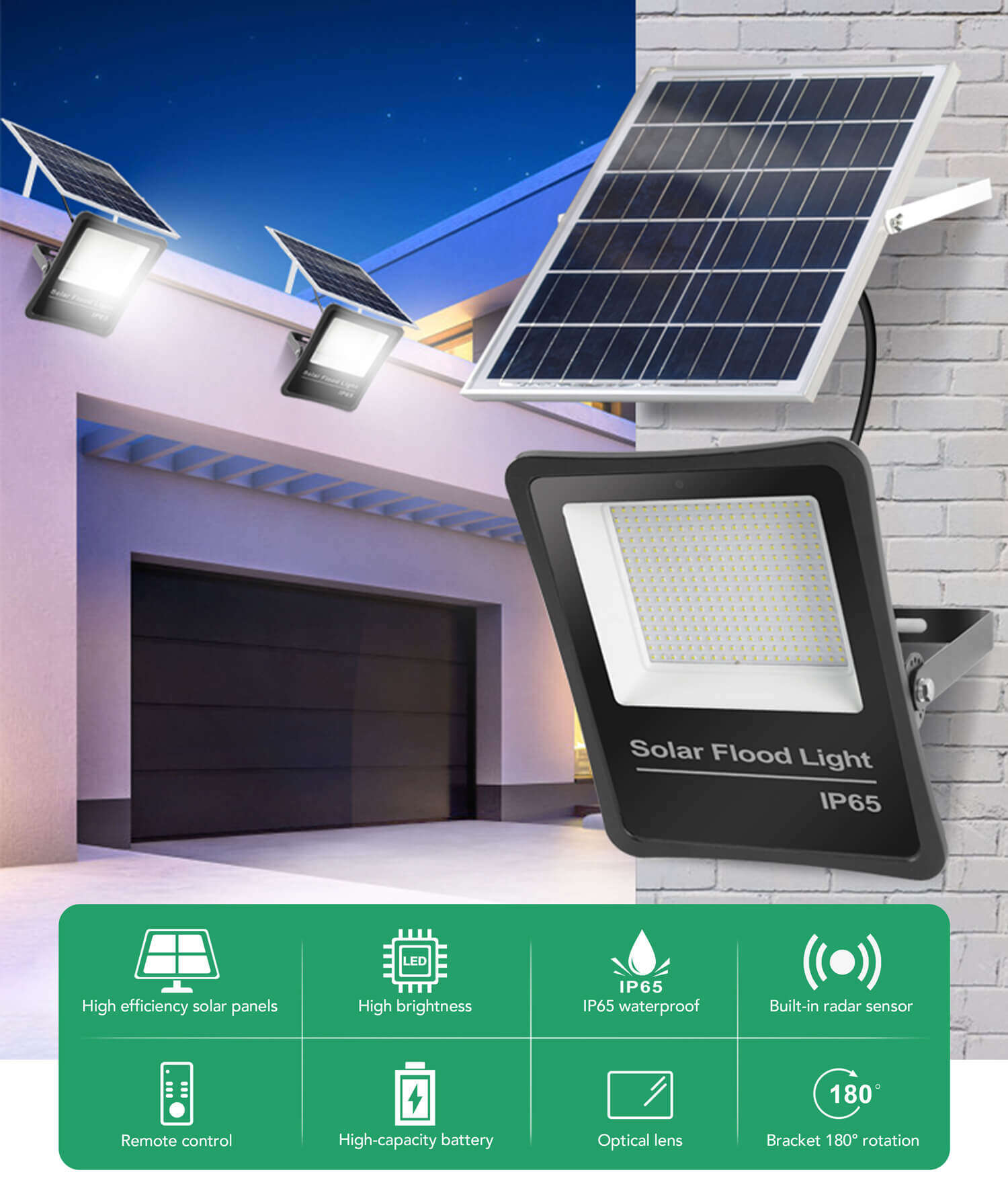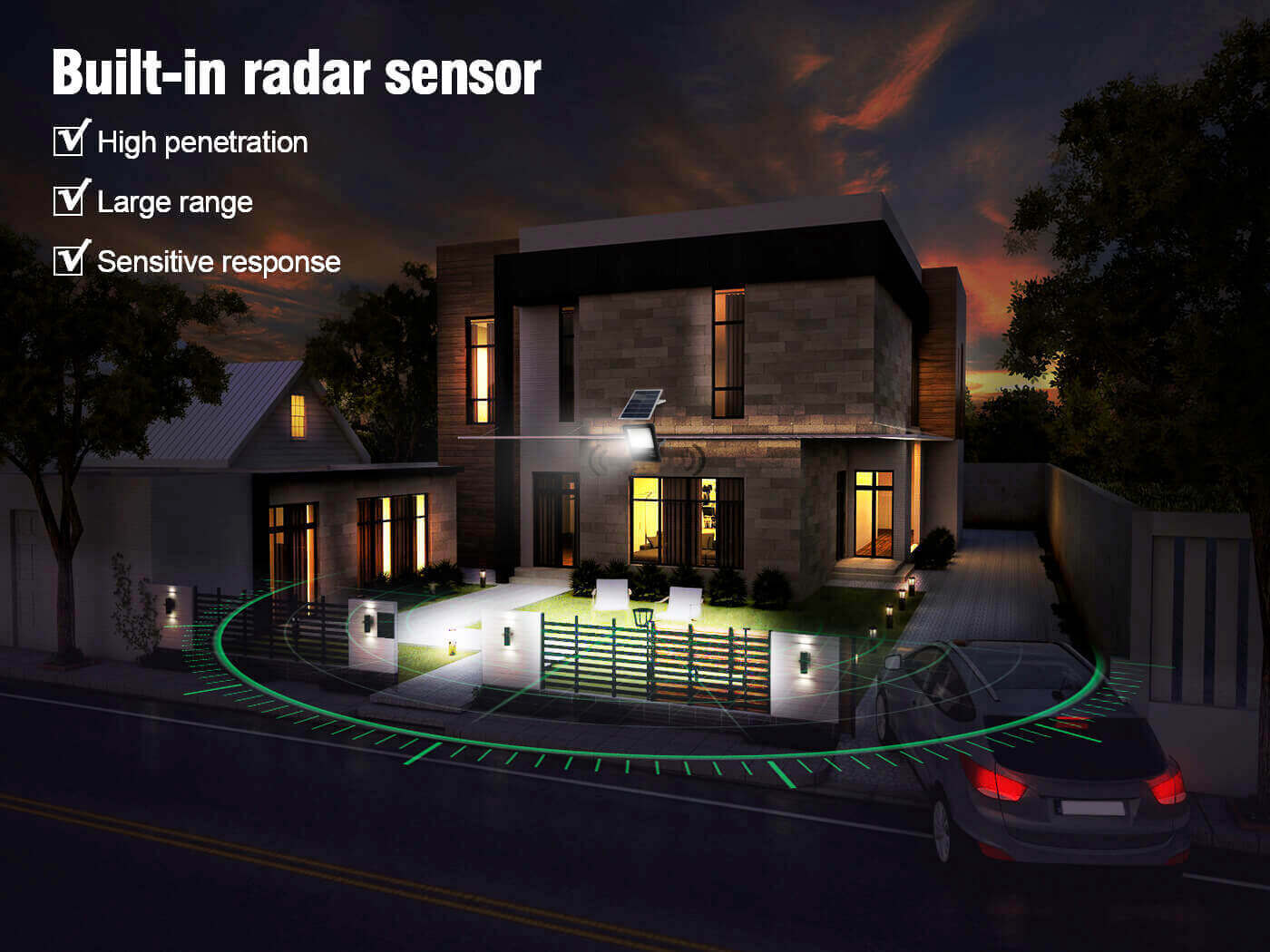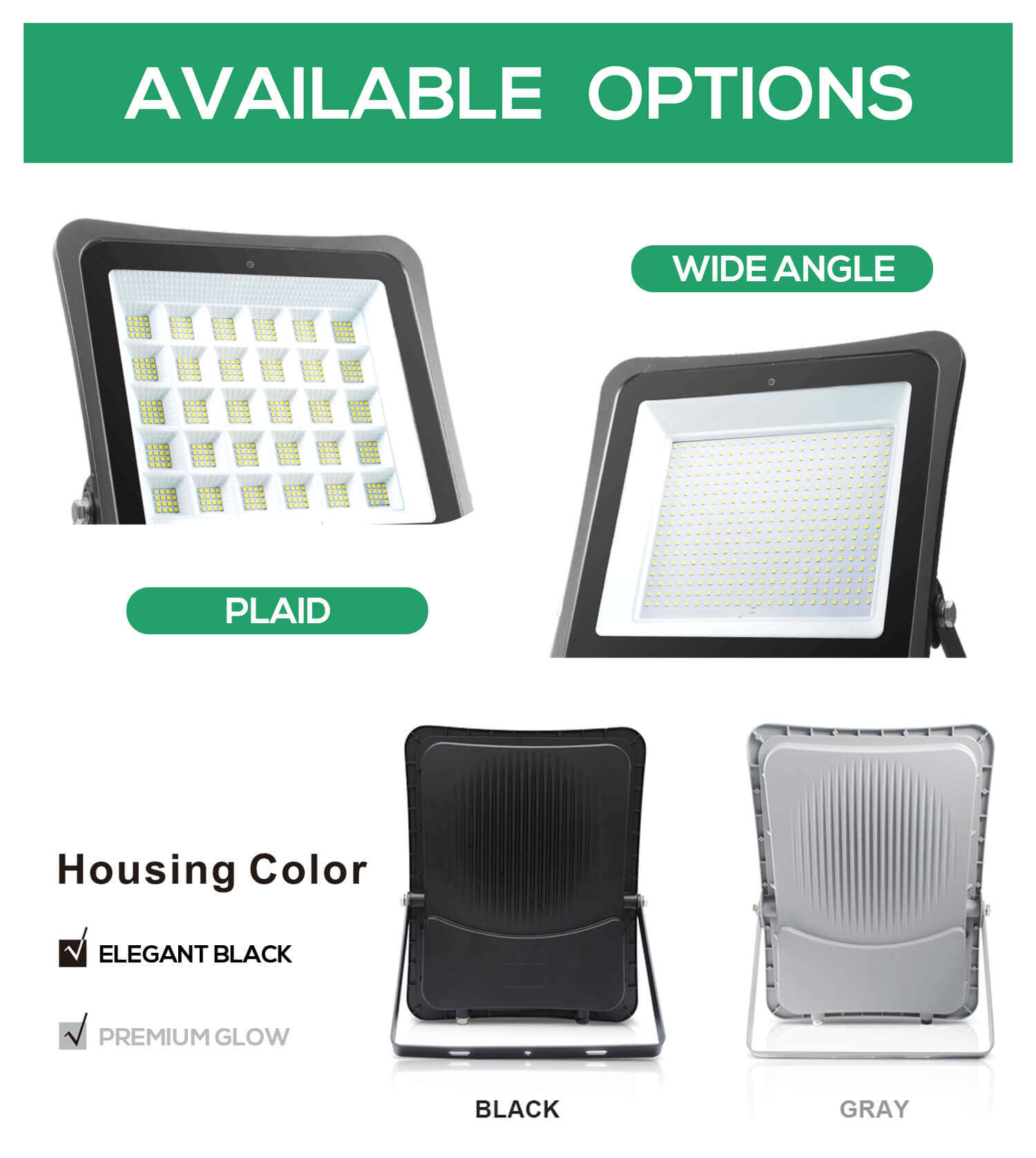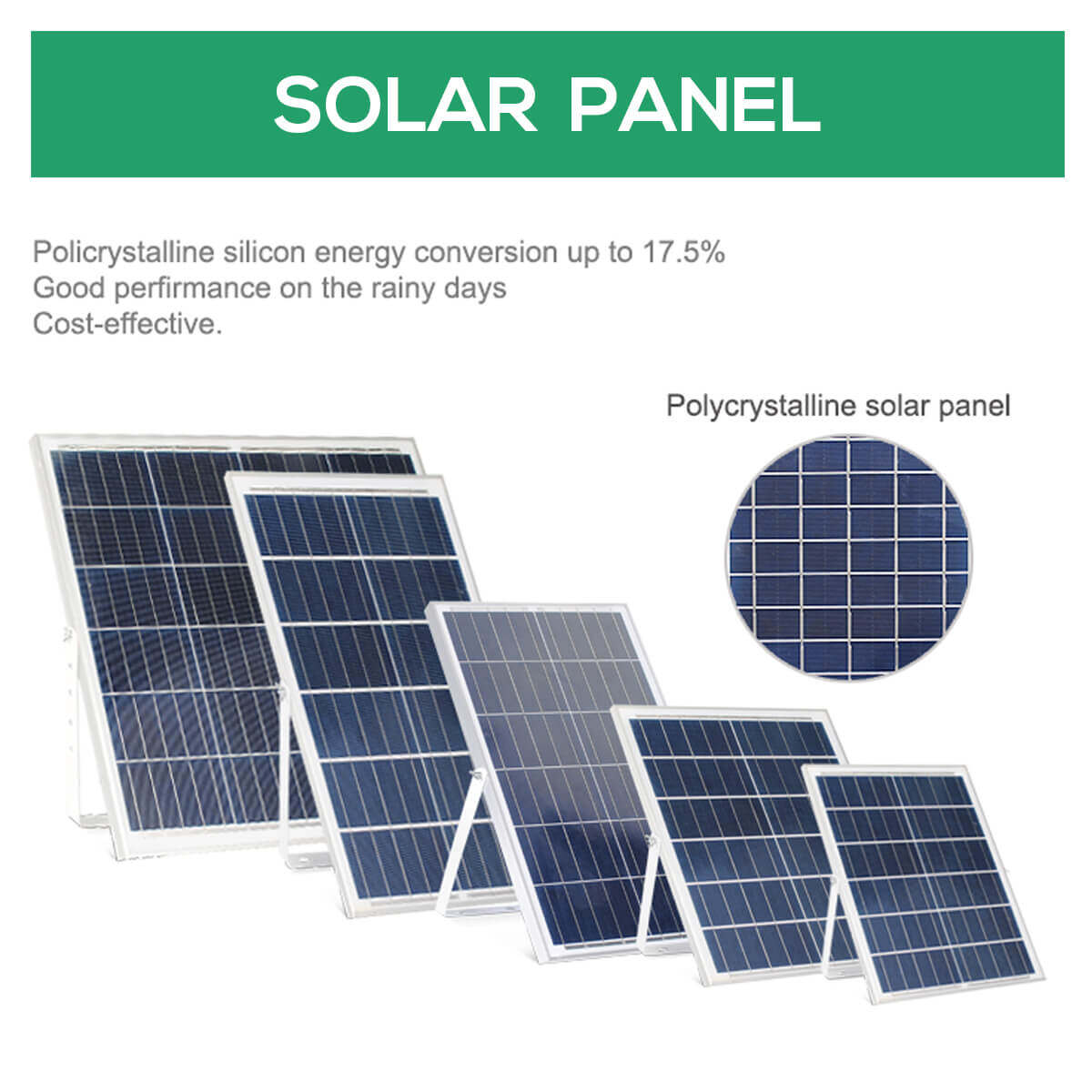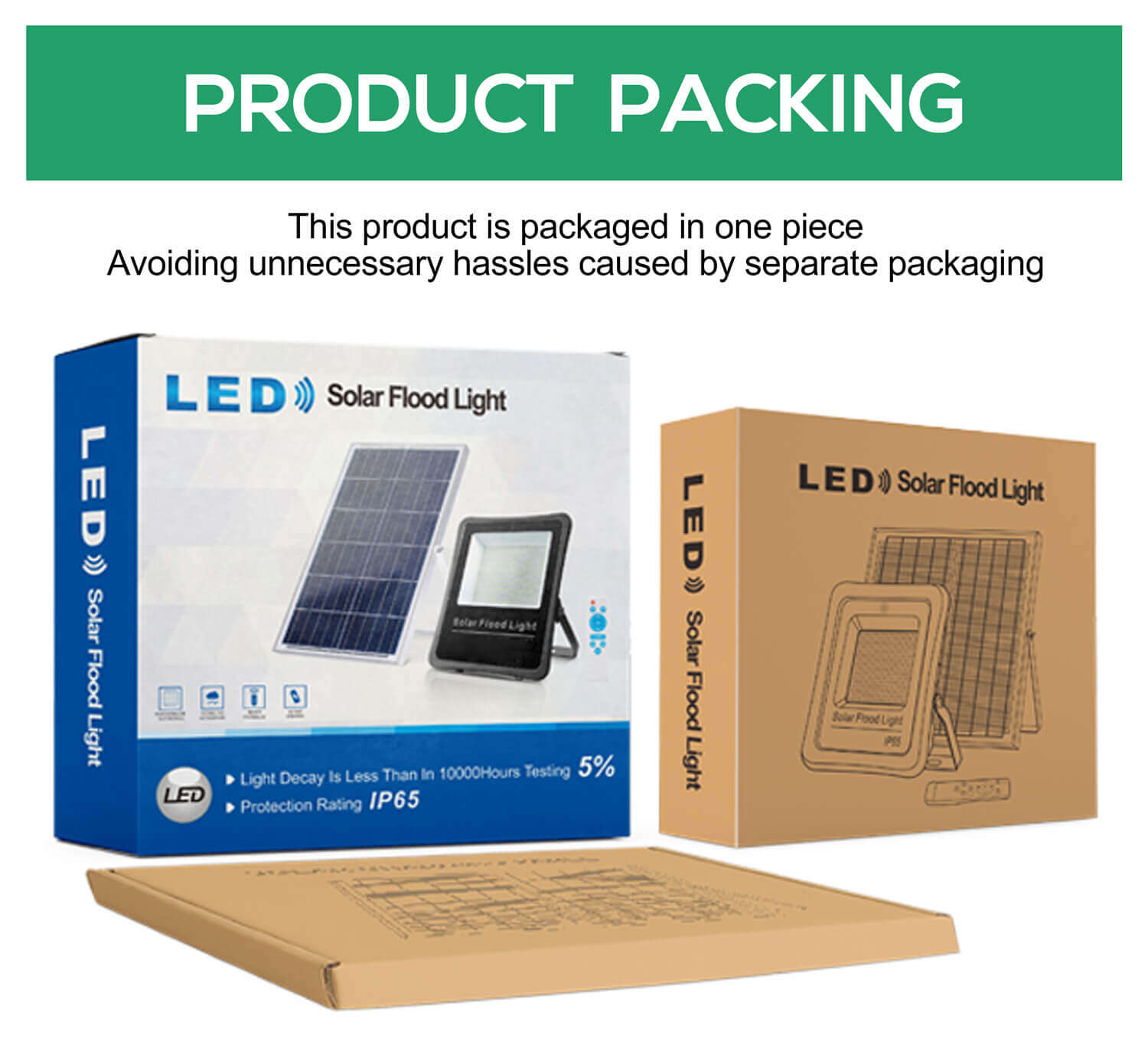 FAQs about solar flood lights:
1. What are solar flood lights?
** Solar flood lights offer a measure of security and illumination without access to an electrical outlet. They gather energy from the sun and store it in their internal batteries until nighttime¹.
2. How bright are solar flood lights?
** The intensity of lights is measured in lumens and the higher the lumens, the brighter the light will be. Most solar flood lights will state the lumens in the product's description¹.
3. What is the coverage of solar flood lights?
** The average floodlight covers up to 180 degrees at a distance of 25 to 40 feet².

4. Do solar flood lights have different light modes?
** Yes, most floodlights have multiple light modes for light intensity, duration, or both. Some floodlights are dimmable or have color temperature options ranging from bright to warm².

5. Are there different types of solar flood lights?
** Yes, there are "street style" floodlights that are angled downward and work well for covering larger areas, as well as seating areas and spaces for nighttime activities².

6. What are the advantages of solar flood light?
Cost-effective: Once installed, solar flood lights don't cost a dime to operate

Solar panels gather energy from the sun and store it in their internal batteries until nighttime

Easy to install: Solar flood lights are a snap to install
Eco-friendly: Solar flood lights serve to reduce energy dependence, causing zero environmental damage
Low maintenance: Solar flood lights are easy to maintain
Waterproof: Solar flood lights are completely waterproof which means they don't let water mess with the light's system. They restrict the entry of water completely and allow the flood light to even function in extremely rainy conditions without impairing its performance
If you have any further questions, please do not hesitate to contact us, thank you.
Tags: